Grains are a perfect and healthy ingredient to add or base your meals on, but when it comes to soup do you know which ones to add?
The best grains you can add to your soup are in this article and so are some recipe ideas, so keep reading below to get some inspiration for your next meal!
7 Grains For Soup
1. Barley
Barley is one of the common grains to use in a soup and it is also one that is usually enjoyed in its most nutritional form, that is pearl barley.
High in fiber and with a low GI, it should be a staple grain in your kitchen as it reduces the risk of developing cancer, helps with weight management, and can help lower your cholesterol levels.
Here are some soup recipes using barley:
Brown lentils, pearl barley, carrots, celery, shredded cabbage, and mushrooms are cooked with some poultry seasoning, salt and pepper in water, and a V8 juice mixture, yielding an ultra-healthy soup.
A slow cooker recipe is the best way to enjoy the wholesome flavor of all these ingredients combined.
This soup is packed with vegetables, turkey, and barley, and it is a very versatile one to make as you can add any kind of vegetable you have and don't want it to go to waste!
You can also make it after thanksgiving if you have some leftover turkey and want a healthy meal or use some quick-cooking turkey to save some time from cooking it.
2. Amaranth
Amaranth is a gluten-free grain that is high in fiber, and protein, but also micronutrients, all of which can help you feel satiated and thus contribute to losing weight.
In addition to that, it is linked to a variety of health benefits, such as decreased inflammation and lowered blood cholesterol levels.
Not only that but this grain is simple to cook and versatile, which makes it a perfect addition to your eating plan.
Here are some soup recipes using amaranth:
This vegan soup is full of distinctive flavors that blend together to create an umami culinary experience served in a bowl!
This bowl is loaded with turmeric and ginger which makes it ideal for those cold nights you feel a bit under the weather, while the amaranth seeds, spinach, and miso paste make it even tastier and balance the spiciness.
If you do love the spice, this soup can bring the flame to the table thanks to the cayenne pepper added to it.
With baby carrots, cooked amaranth, coconut milk, hemp seeds, and the aromas of sage leaves and cinnamon, it is the heartwarming meal you need on cold winter afternoons.
3. Corn
Corn is another one of the grains that are great for soups. Not only does it give a vibrant yellow color to the soups, but it is known for its contribution to better digestive and cardiovascular health, as well as to improving vision and cognition.
Even though it is high in starch and can result in blood sugar spikes if you eat lots of it, when enjoyed in moderation, it acts like a great source of fiber that can easily become part of a healthy diet.
Here are some soup recipes using corn:
A corn soup made with corn, carrot, and potato, and served with some fresh herbs and lime juice can be cooked in 30 minutes and will taste amazing!
When served with some hot sriracha on top or some butter for those who can't do spiced food, it tastes even better.
If you add some shredded corn, ginger, and chicken stock to a pot and then add some chicken, soy sauce, sesame oil, and optionally some salt and pepper, you can make a delicious and simple soup that is high in protein and low in carbs.
Adding some beaten eggs will add some extra protein and good fats, while the cornstarch will help thicken the soup and give it a perfect consistency.
4. Bulgur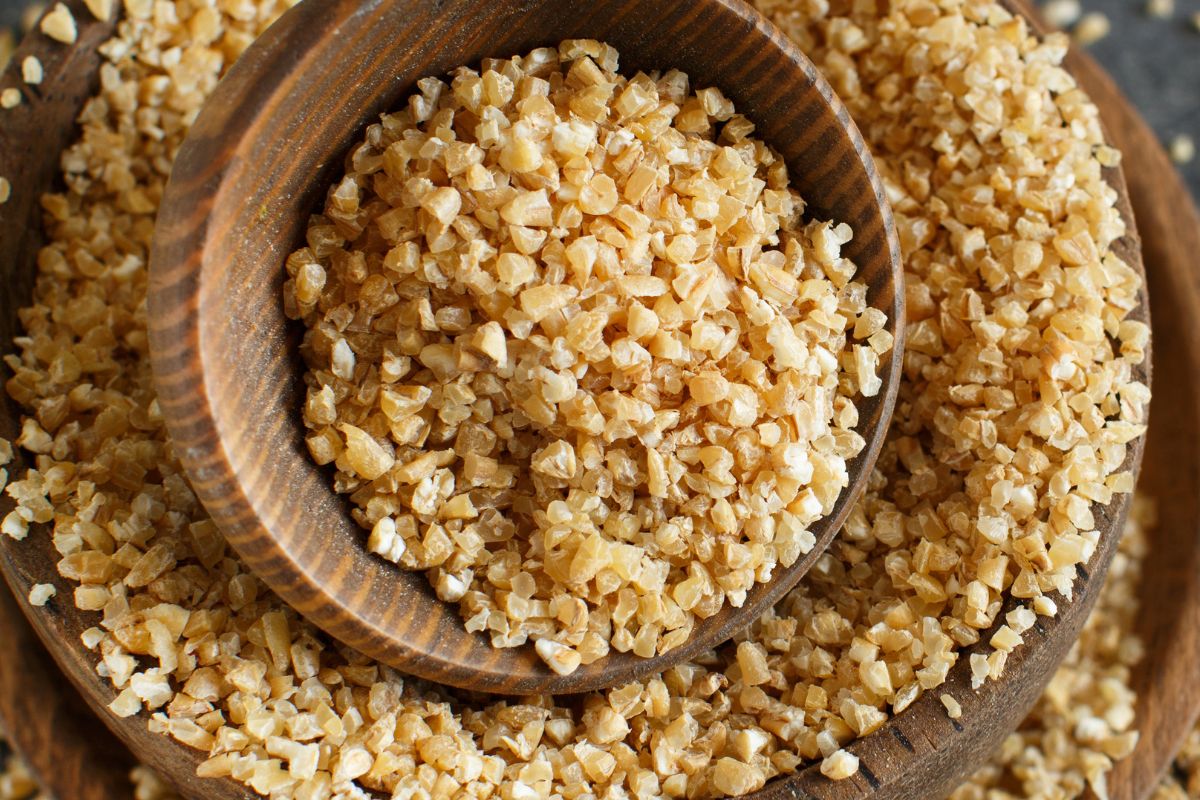 Bulgur is one of those grains that are extremely easy to prepare, as all it needs to be cooked is to leave it in boiling water for some time, which can be as short as 15 minutes, depending on the thickness and variety of the grain.
The health benefits of bulgur wheat stem primarily from its high fiber content as a whole grain, with it contributing to better digestive health, and with maintaining or losing weight.
Here are some soup recipes using bulgur:
This tomatoey soup is made with bulgur, leeks, and red beans cooked in a vegetable broth and served with some lime juice.
Easy to make and with simple ingredients, you can add it to your weekly meal plan and enjoy it regularly if you are a vegetarian or on your meatless days if you enjoy eating meat too.
This yummy bulgur soup is filling, tasty, and spicy. Drawing inspiration from classic, quintessential Mediterranean aromas, and flavors, it is packed with aromatic spices and herbs, traditional veggies, fennel, crispy chickpeas, and fire-roasted tomatoes.
5. Farro
Farro is another one of the highly nutritious grains on this list. It's high in protein, dietary fiber, and nutrients like magnesium, zinc, and vitamins of the B-complex.
All of these are important nutrients for our body, something that makes farro a great addition to meals like soups.
Here are some soup recipes using farro:
Sauteed onion, carrot, and celery are then cooked in vegetable stock with the farro and a sprig of fresh rosemary before being mixed with some whole and blended pinto beans.
This soup has a silky and delightful mouthfeel thanks to the blended pinto beans and the softened farro and whole beans, while the vegetables
For a Christmassy take on farro soup, try this recipe that combines farro, Borlotti beans, and pumpkin chunks in a rich vegetable stock with parmesan and spinach!
6. Brown Rice
Rice is one of the oldest and probably the most popular grain in the world, and one that is widely used thanks to its easy preparation and health benefits.
The outer layers of brown rice contain the majority of this grain's vitamins and minerals. It has a low GI thus not resulting in blood sugar spikes, which makes it a grain that won't increase the risk of diabetes.
It is also rich in fiber, and it contributes to a healthy cardiovascular system, while it can also help you manage your weight thanks to its high fiber content which brings a greater feeling of satiety than white rice.
Here are some soup recipes using brown rice:
This delicious vegetarian soup is low in calories and fat, and high in taste and fiber, with 10 grams of dietary fiber helping you achieve that 1/3 of your daily recommended fiber intake per day!
Made with vegetables like carrots, parsnips, celery, onion, and leeks, and with brown rice, thyme leaves, garlic, and parsley as the garnishing herb, it is a hearty and surprisingly filling soup you should try.
To increase the protein in your soup, you can keep the vegetables and brown rice of the recipe above and add some rotisserie chicken meat.
Equally easy to make and even more flavorful thanks to the added bay leaf, thyme, and rosemary, this is a great post-workout soup as it is a complete meal containing all the necessary macronutrients.
7. Wild Rice
Wild rice can easily be considered a superfood and, to many people's surprise, not a rice variety.
That is because, while wild rice is a grain, it is an aquatic grass that people harvest and treat with heat before removing the husks to be left with the wild rice we get to consume.
This grain has a rich taste and a great amount of manganese, which is an important antioxidant contributing to our metabolism and good cell system.
Here are some soup recipes using wild rice:
If you are wondering how people in Minnesota like their soup, the answer is they like it with lots of white rice and sliced almonds on top!
This creamy wild rice soup also has half-and-half, celery, carrot, and wheat flour that provides the necessary thickness to keep the almonds afloat and your spoon full!
Wild rice, baby mushrooms, carrots, celery, sweet potato, and onion cooked in vegetable stock and enriched with the aromas of bay leaf and Old Bay seasoning sounds like a complete meal already.
However, once all the ingredients are cooked, add some coconut milk and kale to the soup and you will yield the creamiest and tastiest wild rice soup ever!
The Bottom Line
Which of these 7 grains is already in your cupboard? Go have a look and pick one for today's soup!